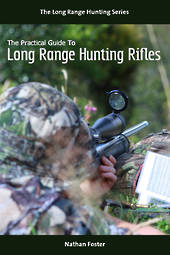 Everything you need to know about the long range rifle can be found within this book.
Every day I receive emails from around the world asking how do I go about achieving an optimum long range rifle - well here are the answers. This book answers all of your questions regarding how to set about either buying or building an accurate long range rifle.
For the past three months I have been very busy writing like crazy. I decided a few months back to write a series of books on long range hunting to answer the hundreds of emails I receive every week about long range hunting. The first book in the series is 'The Practical Guide to Long Range Hunting Rifles'.
I took the approach of firstly teaching the reader fundamental rifle design principles and from there, we set about putting it all together. This is the ultimate consumer guide. By understanding the rifle in detail, the reader can then look at any given potential long range rifle and recognize the strengths and limitations of the rifle, what to expect, how to apply fixes, and how to exploit the full potential of the rifle. Furthermore; the book is formatted in such a way that the reader can study a topic in detail or simply refer to bullet point summaries to get a quick overview.
Every essential aspect is covered, from achieving the perfect fit for low recoil, achieving your ideal carry weight, budget through to high end platforms, light sporting rifles through to tactical platforms.
Most of you already know I put my all into helping hunters around the world. The TBR website is a testimony to this. I have applied the same level of effort and concern with this book. With the book I am also able to take subjects to a deeper level, sharing information that I have been hesitant to share in the past in order to preserve my trade. These are the ace cards of my skill set that I usually only share on a one on one basis with clients and customers.
In this book and throughout the long range series of books, everything I have to offer is going to be laid on the table, and every detail will be shared. And as usual, I will take the no BS approach that you have all come to expect from me.
The Practical Guide to Long Range Hunting Rifles is available as an ebook (epub, mobi/kindle & pdf) and paperback print copy. We have also put together a fantastic package which features both the ebook and the paperback print copy as a package. You can click here to find out more details about the book.
So there it is, book one of an ongoing series. As we move through the series, your skill set will increase exponentially in all of the fields of long range hunting and shooting. You all know me, I wouldn't have it any other way.