Mid June book special - Hunting Rifles and Accurizing - sold for the first time together as a bundle for a limited time. Offer Ends Sunday 26th.
Please follow this link to view this special: http://www.ballisticstudies.com/shop/Book+Bundles.html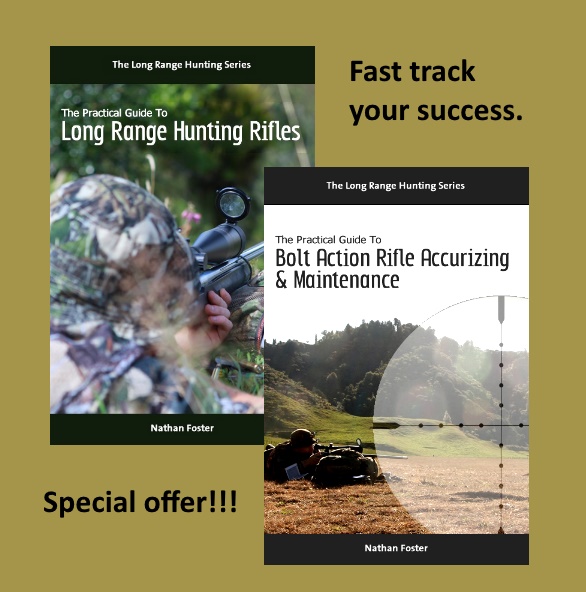 This special offer differs from our normal bundles,
so please check to see which package is right for you.
We have noticed that all 'dabblers and toe dippers' have become diehard fans of the entire series, so please make sure that you have checked and double checked each package deal and selected the one that is right for you. Some of you may prefer to start with the currently discounted Tools bundle and then buy the currently discounted Skills bundle which will then give you the full collection. Others may prefer the fully discounted Entire Collection bundle. If you buy this bundle, you will need to purchase other titles separately or wait for a unique Cartridges / Reloading book deal, purchasing the shooting book as a final addition. That said, this package deal offers great savings.
This package deal is for those who have wanted to buy these two books together. It also makes for an excellent gift package. The rifles book teaches the reader the fundamentals while serving as a buyer beware (what rifles not to buy) while the Accurizing and Maintenance book teaches the reader how to make use of their (wisely) selected rifle in a DIY setting. It does not matter whether you shoot to 300 yards or want to shoot to and beyond 1000 yards; these books will help you make the right decisions while saving you money.
Youtube stuff
Our latest uploads include:
Pig hunt and pork prep (5 minute vid specifically made after seeing poor meat handling):
https://www.youtube.com/watch?v=cZrChxEGLL4
DRT bullet hunting / autopsies (12 minutes)
https://www.youtube.com/watch?v=Qvge3tA5bX
Kapiti Lecture, part one of the epic saga:
https://www.youtube.com/watch?v=G-_2RiJhltU
Long range talk (9 minutes of your life you will never get back):
https://www.youtube.com/watch?v=QvNXYj3eJEk
Radio interview from 2014 which is 'about us' (27 minutes. Some of you may have already heard this. I added a photo slide show for kicks):
https://www.youtube.com/watch?v=DY28_gX5vAs
Short fun vid for True-Flite to promote .358 caliber barrel making capabilities (1 minute):
https://www.youtube.com/watch?v=Zc0bsmwUN84
All the best, Nathan.