This year, we attended SHOT for our first time thanks to the kind sponsorship of Dave Manson (Manson Reamers). To say that the event was overwhelming is an understatement. SHOT brought in 65,000 visitors, all crammed under the one roof over the space of four days. The event was so large that I only viewed around one third of the booths while trying to juggle time in our booth versus the time I needed to meet up with other specific booth holders.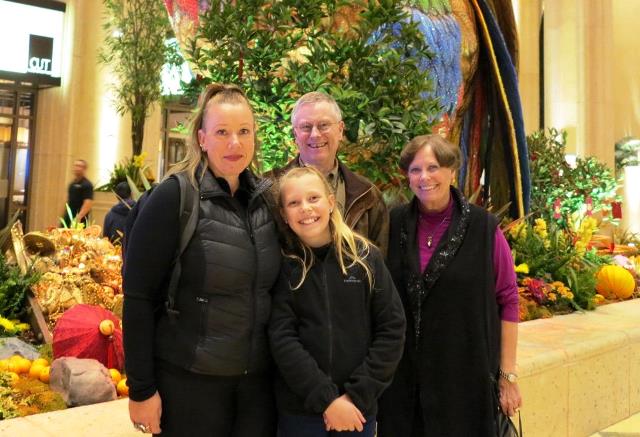 Our sponsors Dave and Ann Manson with Steph and Riley. Kids were not allowed at the event so Steph missed much of SHOT.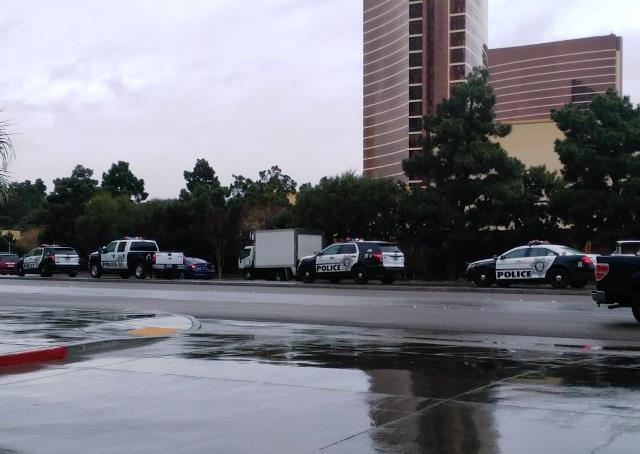 Tight security as we approached the event.
The general feel of the event was very positive, reaching a climax when the new U.S president was inaugurated to the cheers of attendees that could be heard throughout the convention center.
As many of you know, the subjects and methods I teach are at times at loggerheads with this industry so I was interested to see what kind of a response we would receive and I put a good deal of time into observation of general trends. In talking to attendees, I felt that many hunters / shooters are now beginning to see through some of the gimmicks of the industry. I met people who had been sucked into past rifle and bullet designs, had learned the hard way and wanted to move forwards. This was all good verification on the back of the release of my second edition cartridges book. I also loved the matter of fact style of communication from Texas visitors.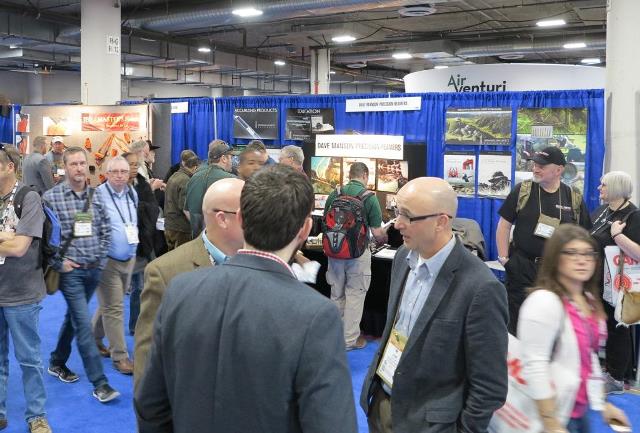 Our booth with Manson reamers. UK gunsmith Mike Norris (multicam pack) and his wife stand to the side watching the foot traffic flow.
As time allowed, I was able to visit several booths of interest to me. To begin with, I met with Sierra Bullet staff who were immensely responsive to the research in my Long Range Cartridges book. I do very much hope to be able to contribute to the work Sierra are doing so that we as hunters can have the very best in bullet designs. I also met up with Dustin Worrell from DRT bullets, another bullet maker who I believe is doing great things. This company very much needs support from customers so that it can grow, expand (new bullet designs / calibers) and flourish long term. I was also able to meet with Hornady Staff members Mitch Middlestaed, Neil Emery (no relation to Dave) and Hornady's senior ballistician Dave Emary. This was a highlight for me due to the fact that many years ago, though Dave may not remember, he helped me along during my initial learning phase. I could tell that being put on display for fans at SHOT was very hard on Dave (and others) yet he remained willing. When speaking of his past he stated - "I was such a nerd as a kid yet I was completely shit at maths. I just wanted to blow shit up. My father didn't know what the hell to think". But with great perseverance, Dave managed to overcome the many challenges of his trade and achieve mastery. It felt good to meet someone I was on the same page with. While speaking of one particular brand of rifle, I was about to mention my expected group sizes (out of the box) when Dave finished my sentence stating 2.5 MOA. This pleased me no end because I often hear of greatly exaggerated claims with this rifle out of the box. By the same token, I quite like these rifles, they simply need a good work over (bedding, trigger, lugs) before one can really get down to business. Again, Dave was on the same page, an everyday down to earth guy who has walked the walk. Dave also relayed some of his crazy experiences from earlier years when he did finally get a chance to 'blow shit up'. It was a very interesting chat.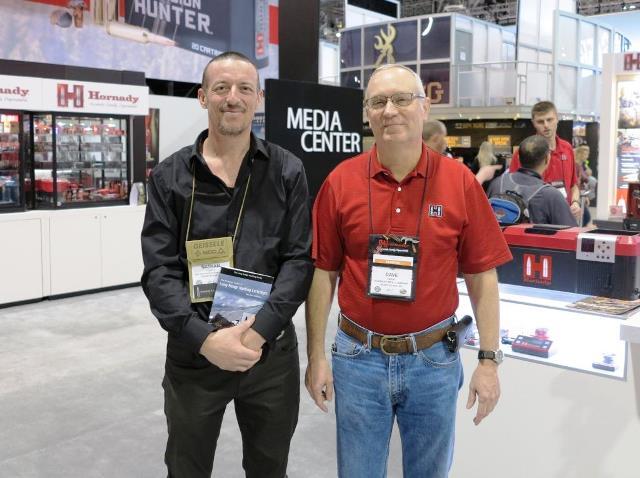 Myself and Dave Emary, senior ballistician for Hornady.
Later in the event I got to talk with folk from Cutting Edge and also Lehigh. In both instances it was interesting to see that these homogenous copper bullet makers have come to understand the need for a bullet that loses some weight and SD as a means to maximize energy transfer. A main factor has been the .300 Blackout which can be a hopeless hunting cartridge if used with the wrong bullet design. This has pushed many bullet makers towards a deeper understanding of terminal performance. Prior to this, I felt that too much emphasis was placed more on getting the bullet to reach its target and generally expand to create a 'nice looking' mushroom. I very much liked the fact that Lehigh utilize a wide meplat for maximum energy transfer across all of their bullet designs. This is about doing what is right rather than doing what is fashionable (e.g maximum BC).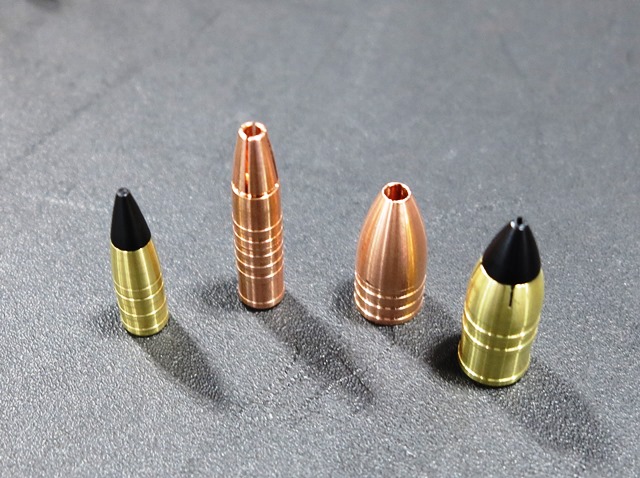 Funky bullet designs from Cutting edge. Note the heavy notches and wide hollow points (including behind Raptor polymer tips).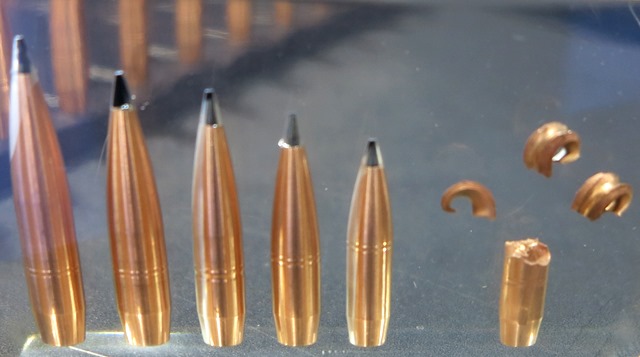 Cutting Edge Laser.


Cutting Edge are also using wide meplats but with polymer tips to boost BC's, the Raptor line is for general hunting, the Laser line for long ranges. Cutting Edge also produce an extreme range bullet, but I am dubious as to its killing prowess on lean bodied deer at very low velocities due to the very small meplat on this bullet deign. I really need to test all of these for myself (as opposed to studying gel blocks and photos) to make further comments. The one factor I loved about both companies is that when I asked if it would be possible to order enhanced designs, both companies offered me custom options provided bullets are ordered in a decent quantity to justify CNC set up time. In plain terms, a distributor can ask for an extra deep hollow point bullet design. I cannot really go into more detail within this space but those who have read my books will understand the potential of this and how any loss in SD / penetration can be overcome via other factors. Please remember this as it is there for the taking. If you are a distributor wanting something with an edge to it, you may wish to consider an extra deep HP design and you are most welcome to put my name on it as a Foster style optimum long range killing bullet.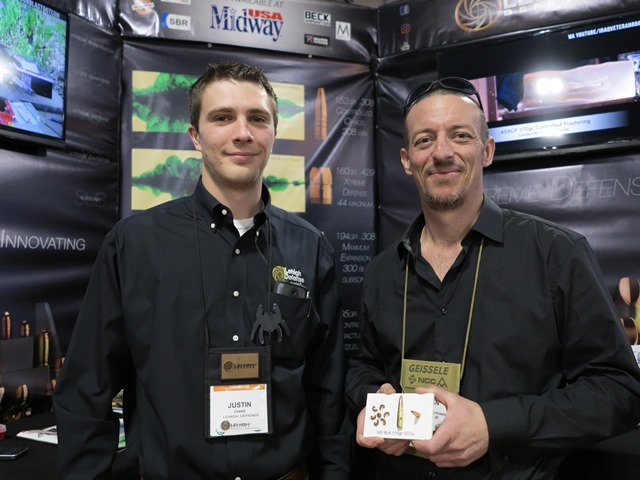 Justin Evans from Lehigh defense. I am holding the latest Blackout bullet from Lehigh, showing performance at 1400fps.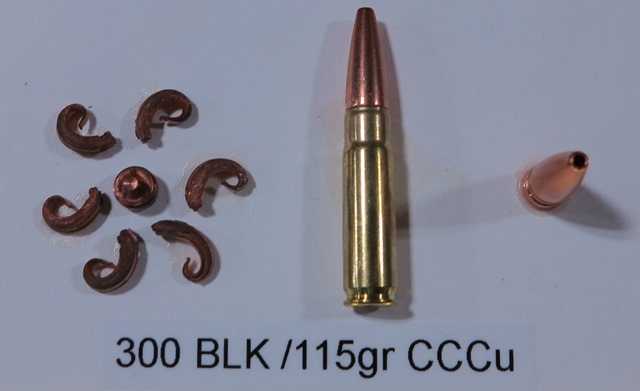 Close up of the Lehigh .300 Blackout bullet. The meplat is unashamedly large and deliberately weakened to maximize performance. It is no good being able to hit a live target if you can't kill it and to this end, the BC of a bullet must always be considered secondary regardless of what others may have you believe.
Further within the labyrinth of SHOT, I came across the NZ made Annealing Made Perfect case annealing machine http://www.ampannealing.com/. This really is an amazing little machine and it is no wonder that the manufacturer is fully booked with orders. I had been aware of this company for some time but it was not until SHOT that I was finally able to meet with Co-owner Matt Findlay.
I was also fortunate enough to meet Karl Lewis of Lewis Machine and Tool. The NZ army recently adopted LMT rifles as a replacement for the Steyr. LMT are a highly respected maker of reliable and accurate weaponry and it is very good to know that our soldiers are now being issued with this kit. While visiting, Karl could not help but show off the Compressor rifle, an extremely short AR-15 platform rifle coming in at just 24.5". The system is such that our NZ rifles can be changed over to this configuration should various situations demand it. There was of course the duller side of SHOT which involved black rifles in just about every aisle. Many passers by complained to me that they were utterly sick of seeing hand guards and add-ons from booth to booth. Tactical bolt action rifles were also the rage. The hardest to find was a rifle that was neither welter weight with a piddly thin barrel or extremely heavy and cumbersome, such are the current extremes.
I also managed a visit to Bell & Carlson which proved fruitful. Those of you who are into bedding rifles for optimum accuracy will be glad to know that B&C are open to the idea of a floating lug in the B&C Tikka T3 stock if customers want it. This may however require you as readers to email B&C as a show of hands. Those of you who are into Tikka rifles may want to get onto this now while my conversations with B&C are still fresh. Howa shooters will be pleased to know that B&C now (finally) make a straight recoiling stock for the Howa action as a deviation from the basic Weatherby Vanguard stock shape. Per chance I bumped into the Weatherby stand and popped the question as to "when are you guys going to ditch your recoil increasing stock design" to which the salesman replied, "yeah, it kicks like hell but it's our trademark look and we won't be changing it any time soon". I find this very odd considering that these companies blow vast amounts of money trying to find new ways to sell rifles, yet overlook the basics. Getting back to B&C - I really appreciated the no-bullshit response I got when I said that many rifles need epoxy bedding no matter how hard the stock maker tries for a perfect fit. I appreciated not being been given a pile of fantastical magical fit drivel.
Across at Shilen I discovered that this company are now making a rifle action (M700 clone) with a Savage type barrel nut, allowing end users to swap out barrels provided they have appropriate head spacing tools. This is certainly a clever way to deliver products to customers while at the same time, empowering the end user.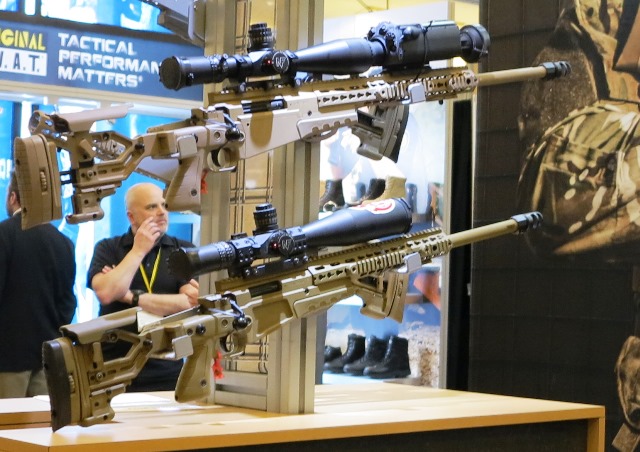 There were many tactical rifles at SHOT as one might expect. Here we see the Accuracy International for fans of Lego. These are the latest weapon from AI after a successful run of the Bob the Builder "fits like a rough sawn 2x4" stock design. More shit to get your pack straps caught up in. The posters were pretty cool.
Away from the booth, I tried my best to gather information, study recovered bullets and photos provided by companies. I spoke to several other companies including a fast feedback session with Sightron and a quick trip to Leica. Within the booth, I sat with my own readers and peers, discussing all manner of subjects. None of this would have happened for us without the kindness of Dave and Ann Manson. Dave is highly respected within the industry, has a quick wit and is as sharp as a tack. It was interesting to watch him as customers asked questions about reamer dimensions. Dave is the type to retain numbers in his head and could answer tech questions on the fly, whether the punter was asking about standard cartridge dimensions or potential wildcat creations. Dave also introduced Riley to Silly Putty which I had heard of but never seen. Talk about hours of entertainment for kids. Ann is yet another brave woman who makes such businesses happen. Like Steph, her work load over the years has been immense, yet she holds fast at the helm no matter the weather.

The event was extremely exhausting and with the poor quality of food in Las Vegas combined with thousands of punters in the one air conditioned space, one feels generally ill and in need of a bathroom at any given (most of the) time. At night, the foot traffic and taxi ques were of epic proportions, making for very long days. As I write this blog, I feel immensely ill and it is all I can do to type and distract myself from whatever has most recently ailed me.

On the back side of SHOT we took a trip to a local Gun show (guns for sale). I have never seen so many Holland and Holland rifles under the one roof. The value of the rifles and shotguns within the show would perhaps been high enough to purchase a good portion of my home district. But of all of these, one rifle that interested me was an original Griffin & Howe .400 Whelen. The picture below says it all.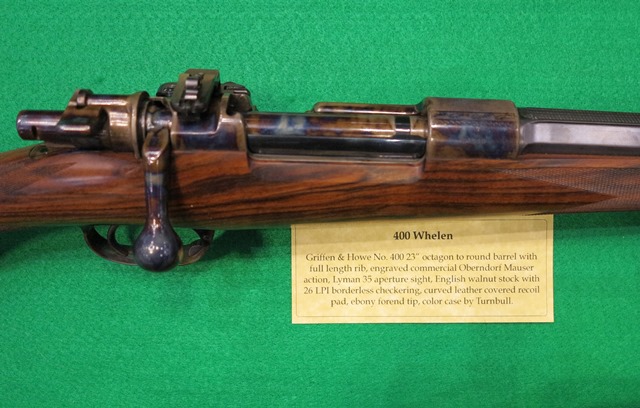 Griffin & Howe .400 Whelen on a k98 action. A rare gem. For those unfamiliar with this - this is what a rifle looks like without an extra 10lbs of railing and other crap attached to it - and yes, these can shoot just as accurately.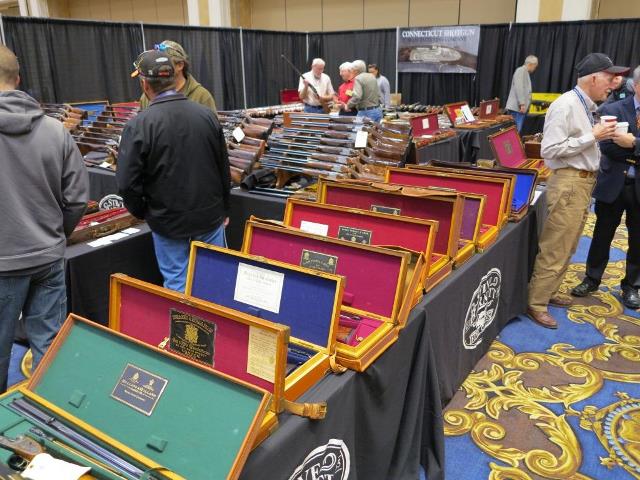 H&H were well represented at the Las Vegas Gun Show.

We also visited the Gun Garage while waiting to check in to our next hotel after SHOT. We had a couple of hours to kill. The Gun Garage is a indoor gun range located just behind the Luxor hotel. We got busy with a Glock, an S&W M29 .44 Mag, an Uzi, an AK and an M4. But while I was busy trying to shoot a nice group with the .44 as far away as we could string out the target, a woman screamed out "50 cal" which was followed by a horrendous bone deep boom beside us. I don't know who the hell thinks its fun to fire a 50bmg at an indoor range with a rear gilled brake but there you go - only in Vegas. Following that, I backed off shooting until others were done playing with the 50. The Gun garage staff were very friendly and helpful but with a taste for rock music played at deafening levels, making any form of communication very difficult. I can see how this (and the .50) combined with the minimal lighting which managed to reflect more off our safety glasses than our sights would be highly distracting to the new shooter. Still, it was a chance to get away from the strip and I am sure most visitors would enjoy it.

A few hours later it was time to check into the Luxor, we arrived liberally coated with and smelling of powder residues. The Gun Garage is to shooting what Burger King is to fine dining was Steph's description of the place. Having said this, it was in its own way a good proof research facility considering the volume of rounds fired each day (800-1000 rounds per gun per day). The guns were caked with carbon by 11am. The AK would not reassemble after we stripped it for inspection at my request, so heavy was the carbon fouling. After we finally got it back together, it carried on in its usual manner, rattling when fired and shooting all over the show as these do once the bores wear and when fired in bursts. The Rock River M4 was simply excellent, remaining accurate whether fired semi or full auto when combined with disciplined technique. The trigger on this rifle was standard and yet much better than other stock AR rifles I have come across with no creep. No doubt the barrels were stuffed on any given weapon at any given time considering the daily volume of fire, their lives extended only via the use of chrome lining. The Gun Garage has two full time armorers cleaning and checking weapons and replacing fatigued parts as needed. The armorers do their best to make sure the weapons are accurate and this was certainly the case when shooting the likes of the M4 and Smith and Wesson.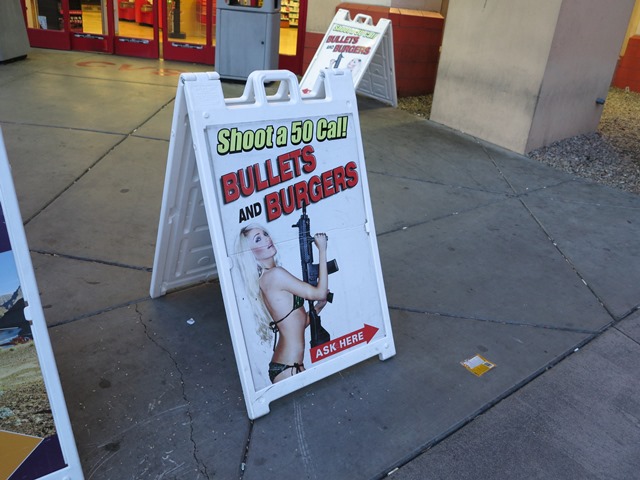 Only in Vegas...

Vegas is hard to put into words. The strip is bold and bright, the mega resorts being incredible to behold. It is sexy yet ugly, it can be fun, yet makes most folk ill. The people are wonderful, yet the businesses and franchises are ruthlessly mercenary. Away from the strip, life in the suburbs is more or less the same as it is in any western corner of the globe. Beyond the city, the Nevada mountains rise like fortresses, dwarfing the city in the basin below.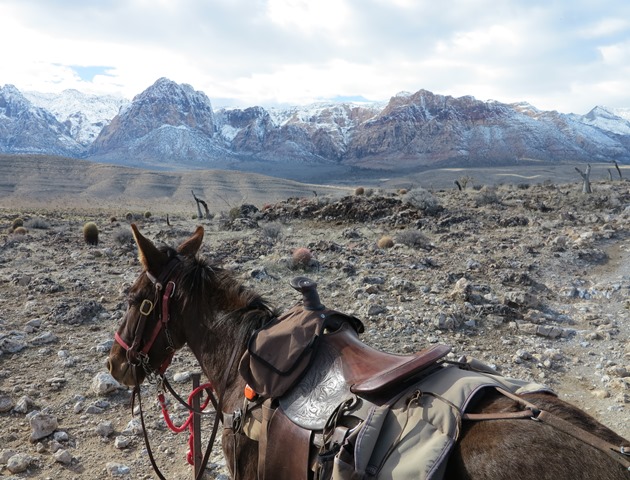 Stephs idea of a good time, mule riding with Cowboy Trails at red Rock canyon.
I hope that some of this information is useful to our readers. There were many more questions I would have liked to have asked while we were at the event however time simply did not allow.

I cannot thank Dave, Ann and the team at Manson reamers enough for their wonderful support. Dave has such a hard working and extremely loyal team. I would also like to extend my thanks to those of you who came to sit and shoot the breeze at the booth. Dave Manson had some extremely cool kit at our booth and the string of gunsmiths that came to say thanks for past orders and offer success stories was high praise for the team. Besides chamber reamers, the Accurizing kit has proven extremely popular along with the book (again sold through Manson Reamers)- A Complete Guide To Precision Rifle Barrel Fitting by John L Hinnant. To view the full catalogue, readers can click on this link: https://mansonreamers.com/catalog/

End users will appreciate the fully match accurate muzzle recrowning hand tool kit. Yes, a hand (or cordless drill) tool that can be used to recrown barrels (also mentioned in my Accurizing book) yet produce optimum accuracy. This is extremely well designed and immensely useful when dealing with all manner of rifles, especially modern factory rifles with crowning swath burrs (again see Accurizing book). To see the kit in use on youtube, please click on the following link: https://www.youtube.com/watch?v=-Xpzv1Spsnk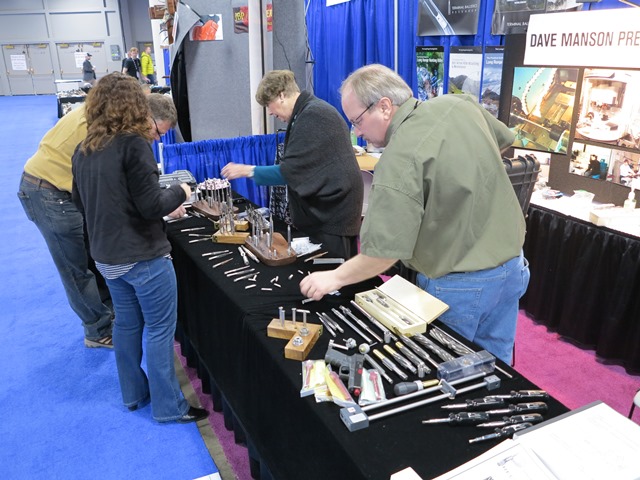 Rick, Dara, Ann and Scott (at rear) setting up the booth at the beginning of Shot.

All told this has been a wonderful experience for us (between dashes to the bathroom). Over time, I hope that we can put some of the products we saw into use and offer both our readers and the bullet makers some useful information.

Here I come to the end of my blog. I am sorry for myself that I do not have more to say as the action of typing is helping to prevent me slipping into a fully nauseated state. At least I have stopped trembling. Riley is dying to see the Tournament of Kings at the Excaliber, I do not know if I can brave another meal that Steph or I have not ourselves shot or killed. I tried the vegetarian route for a few days but this had equally dire results. It seems the only thing safe to eat here on the strip is coffee, though even the water will not agree with rural NZ folk. I am just glad it has to be boiled to make coffee.