Early in 2008, I found myself with a few dollars spare to put towards an ongoing project, building two custom rifles, one for myself, the other for my wife Stephanie. At the time, my rifle featured a stainless steel Winchester Model 70 controlled feed action and a spectacular walnut stock created by Kevin Gaskill, the custom stock maker from Raglan. Stephanie's rifle was similar, a left handed long action Montana M1999 stainless steel action (almost identical to the M70 but with a superior bottom metal design) and a sleek classic stock, again built by Kevin Gaskill.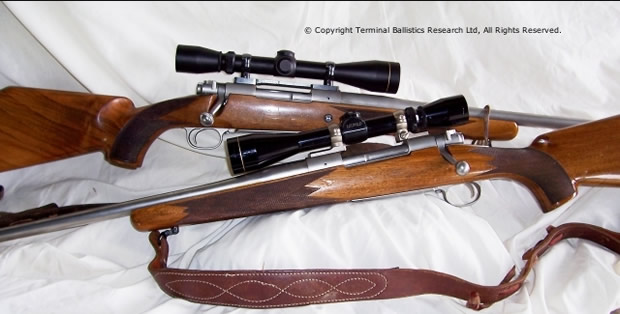 Above - a matched pair.
Both rifles had initially been fitted with foreign barrels but the results were disappointing as a result of inconcentricities during the final chamber reaming. I had made a decision to rebarrel but could not justify the financial waste of an immediate swap. Time went by; a month turned in to a year or was it more? All I can say is the rifles sat and collected dust and it constantly annoyed me to be advertising my rifle accurising services with two in-accurate rifles in the lock up.
Over the following months I worked with True-Flite to rebarrel both rifles. True-Flite were amazing to work with from go to woe and the end results were amazing.

You can read all about my project and the process I went through here.